We find threats and eliminate them
The increased use of the internet has led to increased online activities, some of which affect a business negatively. This is thanks to the malicious attacks made to an organization's network system covering both hardware and software components as well as the data contained in them. This calls for adequate measures to be put in place to mitigate such attacks.
Our firm is dedicated in providing reliable threat detection and remediation services to our clients, of all sizes and shapes. We use proven techniques to identify the vulnerabilities in your system and help come up with effective solutions to mitigate or eliminate them.
Types of cyber threats we look out for
Our team of specialists will monitor your network to identify potential threats. Some of these threats are mentioned below
Network Intrusion-This refers to the activities leading to the unauthorized access to your network by unknown persons. Such activities will lead to the theft of sensitive information that will serve to increase the risk level of your business. While such attacks may be unusual, they may fail to attract serious attention, a situation that makes it difficult to detect them.
Ransomware-This has become the most common type of cyber-attack Due to the low risk high reward nature of it. Cyber criminals insert malicious code into an email or other links, once an employee clicks on this the ransomware the act will begin encrypting a system making it inaccessible and often spread to other accessible machines on the network. The criminal organizations then demand payment to decrypt the ransomware.
Companies have often been left with no other option other than paying the criminals ransom.
Malware-While this might be one of the oldest forms of cyber-threat, it still is effective and popularly used by attackers. Malware is a term, used to refer to malicious software. It can take many forms, but in modern terms it can often destroy data, log keystrokes or give remote access to attackers.
Insider Threats-This refers to malicious activities done by an insider who has authorized access but misuses or leaks the information contained in the network. This is not necessarily done by an employee but also contractors, vendors, and other third parties. It is difficult to detect this threat as these people often have access to the information.
We take steps to limit your employees ability to take information offsite or upload it outside of your network.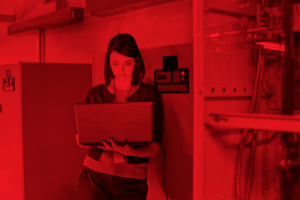 Why choose us?
Our cyber security firm is the go-to solution for your cyber-threat prevention needs. We make use of advanced technology tools to detect threats on your system and provide solutions. This includes using different models to handle the various types of potential threats to your network.
While no solution or company can provide a 100% guarantee of security we will make sure you're well prepared and better protected for any potential thread.
Secure your business today by seeking our threat detection and remediation services.
Receive a free security assessment with no obligations.
Contact us today for reliable, fast, and efficient services.